A gelato evening — End of the Day for August 1, 2014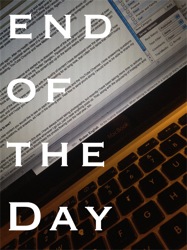 Any day that ends with Bulgarini Gelato is a good day!
Dinner with friends tonight, ribs from their smoker and finished on the grill and they took us here afterwards. True Italian-style gelato and they even had Sicilian-style granita that tasted just like it does  (in our second) home of Nicolosi. (SMILE) Even the venue reminded me of small back alleys in Sicily on a lovely summer night, tasting gelato with someone you love.
I had Mondorla di Sicilia (Almond Gelato) combined with my favorite gelato, stracciatella (something like chocolate chip but much, much, better)
Previously on End of the Day: