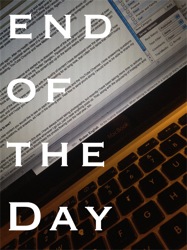 Writing a bit early today. By the time you read this we will probably just be returning from tonight's performance of Twelfth Night by the Independent Shakespeare Company of Los Angeles down in the Old Zoo at Griffith Park. These shows have become and annual tradition with us and we try to catch every show each season. This year the shows are Twelfth Night, Taming of the Shrew and a combined musical and theater night at the end of the Summer. Look to my Twitter and Facebook feeds for some shots from our visit tonight.
The shows are always free, you need only bring a blanket or chair (along with dinner, drinks and snacks, if you wish) kick back on the grass and enjoy the show. It is a great — and cheap — way to spend an evening with theater under the stars (and often with coyotes howling in the background). I must say the coyotes lent a nice touch during Macbeth last year!
We have been bringing Joe since he was quite young. It was great as he could play with toys on the blanket if he got too bored early on. Of course, this evening he is bringing a girlfriend to the event. Ah, how time does fly! Friends are joining us tonight, too, as we always encourage people to get out an enjoy these shows. 
Bring a jacket, as the canyon can get a little chilly at night. If you want to sit close to the stage, bring a blanket only. Chairs of any height are restricted to areas further back from the stage to allow everyone a clear view. There is ample free parking in Griffith Park, but there is a bit of a walk up to the theater area itself in the Old Zoo. Handicapped and the elderly can receive a ride up via the ISCA shuttle, I believe. Bring a flashlight, or your cell phone, to light the way back to your car at the end of the show.
Complete information the Independent Shakespeare Company LA web site
My Places LA video from the 2012 season
Previously on End of the Day: