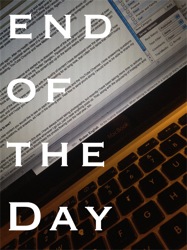 Today's entry is more of a photo essay than a written one. Rosanne and I took an hour or two to finally visit our own neighborhood microbrewery, MacLeod Ale Brewing Company (14747 Calvert Street, Van Nuys, CA). We had been meaning to get down their for weeks, but scheduled have been a bit harried today.
We are glad to report that the place was hopping and the beer is good! Yea! I didn't really expect anything else after talking to Alastair MacLeod and Jason(?) one of the brewers a few weeks before they opened. They are obviously dedicated to the art of fine beer and my tasting flight tonight was excellent. I look forward to trying their seasonal beers as they appear. I had "The Crisis" IPA tonight in my flight instead of their dark porter.
I will be scheduling an LA Friday Coffee event at the brewery in the next month or so, so keep your eyes out for that announcement. 
Click for larger images
Previously on End of the Day: