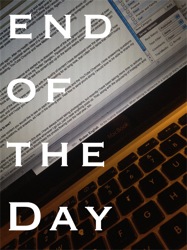 A convivial evening on the porch with a collection of friends certainly is a great way to end the week. Two families came by for our traditional Welch pasta feed, bringing salad and cakes with them along with the pleasure of their company. There was also a collection of teenagers in tow, both friends of the family and a couple of friends from school.
This is one of Rosanne's favorite gatherings. I think it reminds her of the large family dinners of her childhood, filled with grandparents, aunts, uncles and cousins. There was always plenty of food and plenty of "discussion", if sometimes loud discussion. (LAUGH) I was completely overwhelmed the first time she took me home to meet her family. They were so unlike my more reserved white, Anglo-Saxon, Protestant family being Sicilian-American and Catholic. They were all hugs and kisses, and smiles and boisterous and…wow! I can still remember that night like it was yesterday instead of 30 years ago. Of course, the time with Rosanne's family taught me to be more open, more conversant, more loud and just a lot MORE of everything.
Tonight we set up camp on the back porch, something we don't do nearly enough, and had a great evening of pasta, conversation and few sips of my homemade limoncello, which I always enjoy sharing with others. The teenagers even stayed outside with us, ignoring the TV and video games, talking and playing games in their own circle and then joining us for conversation later. This doesn't happen very often these days, so that is always good to see. Before too long they will be off to college and their own lives, so a bit of conversation with them is always welcome.
These simple evening always remind how little is required for a few moments of happiness. Good food, good company and good conversations and no need to try and solved the problems of the larger world. You get to leave the everyday stresses behind, even for a short time, and that does everyone a world of good. You can't ignore the world forever, but I think we all need a few moments to ourselves where the outside problems don't intrude too deeply.
We talked about life, the kids, books, food and a host of other topics, weaving in and out of conversations between pairs, triplets and the entire party — an unaccompanied conversational dance, as all good conversations are. Our world consisted of those around the table, the food one it and the thoughts in our own mind. A perfect combination, think.
Previously on End of the Day: