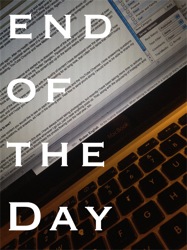 It looks like we have a prankster on our Minecraft server…and he sits right next to me!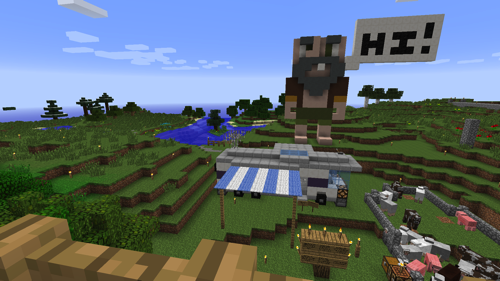 The figure is a caricature of one of our favorite Minecraft YouTube personalities, GenerikB and his broken down RV that makes an appearance all over the Mindcrack server, where is plays with a host of other YouTubers. While I appreciate the work the Joe put into it, I was a bit surprised to see it when I logged in to record today's episode. That's a big part of the fun of a multiplayer server, though — seeing what everyone else has gotten up to since you last connected.
I'll have to spend some time tearing all this down, as it is right in the way of what I want to be a garden path, leading to my own little botanic garden over in that bend of river in the far left. I have started to plant some flowers, build some paths and make some plans for that already. Today's episode was all about traveling to harvest sand, sandstone and cactus to plant in the desert garden.
Minecraft is where I turn lately for a little fun and relaxation. Yes, I still record my adventures there to post on YouTube, but for me it is really more about the fun. I can control my world, build what I want — as long as I watch out for the monsters that come out at night. (LAUGH) You can find video of my Minecraft adventures on the WelchWrite Server (Get your own Minecraft Server here) in this playlist on YouTube. I don't do a lot of episodes, but I think it is fun to share them, just as I do with everything else.
You can also subscribe to my YouTube channel to be informed whenever I post any of my videos on Gardening, Careers, Technology and, of course, Minecraft.
All sorts of Minecraft Fun from Amazon.com
Previously on End of the Day: