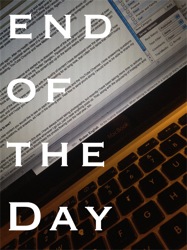 Listening to the constant sound of fireworks outside my window — in a city where fireworks are banned by law — reminded me just how contrary the American people can be. We dislike nothing more than being told that we can't do something. In fact, just like teenagers, the quickest way to cause an action is to prohibit it. For me, it seems the recent handheld cell phone ban caused more people to use their phones than ever happened before the ban. Bluetooth headsets were all the rage, but you hardly see them now at all. We all know someone who simply refuses to be on time to anything. For most, I think that they are simply exercising their American contrariness and right to do exactly what they want no matter how it effects those around them.
As for fireworks, I do miss large fireworks shows and such, as it seems too difficult and crowded to see any of the shows in the LA area. I don't mind the noise the homegrown fireworks so much as the fire danger — even here in the urban Valley. I know my own garden is quite filled with combustible materials, both trees and the leaf litter they leave behind, so I always keep an eye out on nights like this, just to be careful. Multiply that worry by a thousand times if you live in or near the mountains surrounding the Valley or indeed the entire state of California and beyond. There, one small spark can mean lives and homes lost along with millions of dollars. My desire for a fireworks show simply can't outweigh the dangers of where we live.
When visiting Sicily for the second time, I pointed out to our cousin, Marcello, 4 gentleman standing, smoking, directly below a sign that said No Fumare (No Smoking, as you might imagine). He simply said, "Catanese!" (The Catanians). They are famous throughout Italy for their contrariness and rule-breaking.
Looking back on that now, I see we are just as contrary at times, if not worse. We hate being told what to do, even if it is in our own best interest. Today, Independence Day is certainly about freedom, but it is also about good citizenship, democracy and carrying for your fellow man. This means that sometimes you have to limit the freedom of the individual for the good of the many. (I know. I know. That sounds like a line from a Star Trek movie) Regardless of whether we want to, or not, we have to share the city, the country, the indoors and the outdoors. We should seek to be considerate and help everyone live a better life, as you might hope they would do for you.
Previously on End of the Day: