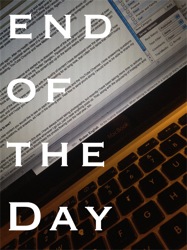 After an extremely busy day yesterday, we were all pretty tired this morning and got off to a rather slow start. Thankfully nothing required us to get up an moving — until we discovered that a friend was holding a boo reading and signing at Diesel Books in Malibu. Being that he is a very good friend of ours and I need little excuse to go to Malibu on such a beautiful day — we cleaned ourselves up and headed down.
As I usually do, I took along my cameras — both still and video — and figured I could capture a bit of the reading to share here on the blog and YouTube. I do this because I don't believe in throwing away "content" that other people might enjoy. If I am going to enjoy an experience then it is a good possibility that others will, too. They might not be able to come to the event otherwise due scheduling or, more likely, because they live at great distance form where the event is happening. Why not share the fun when it takes relatively little work to do so?
You'll be seeing the results of today's event in a few days, but as always, it makes me wonder why more people — especially creative people — and businesses — especially bookstores — don't make more of an effort to share their events in whatever way possible. For me, taking few pictures, grabbing some video — even with a smartphone — is far preferable to doing nothing. Events, once passed, are lost if you don't do something to capture them. More importantly, everyone NEEDS to be capturing their content because this is the media you will use in selling the current book, song, movie, etc and also the media you will use to sell your NEXT book, song, movie, etc. If you don't capture this content, you are crippling yourself, your sales, your promotion and possibly even your career.
It is so easy to capture and share content these days. We really don't have an excuse for NOT capturing it. OUr smartphones take 1080 HD video and record CD quality sound. Our point-and-shoot cameras take pictures far better than anything in the past. It is the "will" that is lacking. Most of us have still not realized the deep importance in capturing our content. We don't make it an automatic part of our life and work. We let things happen and then let them go without ever realizing the value these events carry for our future.
People often ask me why I go through the effort of capturing content for other people. First, I gain value from the content by sharing it online, on my blog and YouTube. The subject the event also gains value from increased exposure and the chance that an audience will stumble upon their book, music, etc and find they that they like it. Third, I also do it as a way of showing (and hopefully) convincing others of the value of capturing their content. It is "Real World Example" of how to capture it, how to package it and how (and why) to share it. By providing a good example, I hope to bring others along with me on this New Media journey.
The next time you are involved in a creative project, an event, a fundraiser, whatever — please, please, please at least consider capturing the content surrounding the event. Share your photos via Facebook, Flickr, Twitter and others. Upload the video to YouTube and share it on social media. Send links to the content to everyone involved and ask them to share it with their friends, family and business contacts. I think you will greatly — and pleasantly — surprised by the results.
Previously on End of the Day: