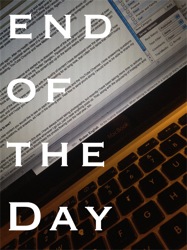 If you have been reading "My Word" for any length of time, you already know that the topics covered here ebb and flow, just as interests and opportunities ebb and flow in my life as a whole. It only makes sense, as My Word is basically a reflection on what is happening in my life. You will have noticed lately an increase in food-related posts (along with photography) in the last few weeks. That might seem odd, considering I am still trying to lose weight, but rather I think it is a result of that. Since I am eating less, I find that I am enjoying it more. I don't get lots of sweets and snacks, so when I do have them, I want it to be the best possible. If I am going to have a burger, I am going to have a really good burger, not your average fast food variety. This new focus has led me into another possible series for this blog, too, focusing on artisanal foods. My concept of food can also be extended to mean "brewed" foods like beer, coffee, cider, distilled spirits, and more. (SMILE)
A new (food) series
Next week I will be recording the first interview for this new series (as yet unnamed — any suggestions?). This will be a video interview, on-site with a food maker, but I foresee possibilities of also doing audio podcasts, Google+ Hangouts and more as the situation allows or warrants. As I often say about podcasting and new media in general, it is best to follow your interests — those things that intrigue you — as it only makes sense that it will interest others.
Suggestions?
With any blog, podcast or YouTube series, it is important to generate as many ideas for topics and guests as possible before you actually start. This allows you develop a scheduled and flow without constantly worrying where the next guest is coming from. If you have any favorite artisanal food products and/or food makers, please pass along their contact information. I'd love have them on the show and share their products, thoughts and desires with as many people as I can.
Ideally I would like to talk with individuals or small groups who are producing products in small volumes, in house. I love to highlight the underseen and underheard in any area of my work, as those who have already developed a certain level of success don't need the exposure quite so much. That said, I am open to any suggestions you might have. If you think they and their products are interesting, I will certainly talk with them further. 
Look for the first (test?) episode of this new series sometimes late next week. Send me ideas for guests and products. I think it will be fun, interesting and, best of all, tasty!
Previously on End of the Day: