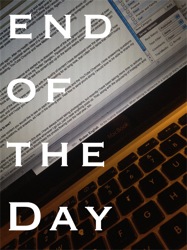 As you have probably noticed here on the blog, I have been revisiting a to of old photos from the formidable collection I have generated over the years. With all the new ways of sharing photos — and all the cool things you can do with them – I am loving using my collection to create something new to share. You'll see me creating Instagram photos, adding in black and white cartoon versions using Toonpaint, adding descriptive text via Over and turning some of them into pseudo-watercolors with Waterlogue.
Of course, the other great part about doing this is taking the opportunity to look at photos you have seen in years. Whenever I come across some of the older photos of Joe I am flabbergasted. Could he have ever been that young, that small? I can't believe it, although I know it to be true and have the photographic proof. The photo collection also allows us to look back at some of the amazing travels we have had over the years. They bring back fond memories of Sicily, Cardiff, London, Paris, Rome and a host of places in the US. Each photo brings the poignant prick of memory. In some cases, we have lost people and only have their memories and the photographs to remind us. Visiting Sicily agin will be both sad and joyful. Our cousin, Serafino, died just last year, but my photos are filled with images of him with his wife, Francesca and their son, Andrea and daughter, Daniella. It will be so odd to return to his house and not find him there to greet us as he has 3 times in the past. He will be missed greatly, but we will always have our wonderful memories of him.
Serafino and Joe in the garden, December 2003
Serafino and Joe in Piazza Amerina, 2011
When things are going particularly well here — work is difficult, life is harried, progress is minimal — I love looking over the photographs and let them help me dream a bit. I can remember the past, but they also drive me forward to seek out new adventures, visit new places (and some of those we have visited before) and remember that the world is a large, large place with an infinite number of places to see and things to do. I am so glad that we have been able to give Joe the ability to travel around the world at such a young age. He was only 2 1/2 when we made our first trip to the UK, Paris, Rome and Sicily, but he has been back 3 other times now and has his own special memories of riding the Tube in London, climbing the walls of the Keep at Cardiff Castle, seeing Doctor Who filming location and, in Sicily, "setting our butts where the Greeks and Romans say their butts!" I hope that this his expanded his mind and thinking of the possibilities that exist in every life. There is a huge world out there. Why not go out and discover it!
Previously on End of the Day: