Podcast: Play in new window | Download (Duration: 1:42 — 14.0MB) | Embed
Subscribe: Apple Podcasts | RSS
Part of the New Media 101/Blogging 101 series…
A quick clip from this 45 minute presentation — The Why, What and How of Blogging.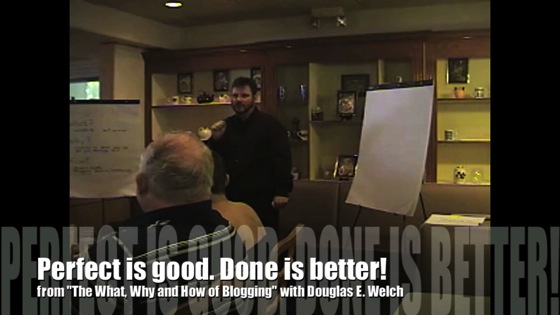 Transcript:
What I will say, though, and I have to deal with this with podcasters and video a lot, is that the "P" word comes up — Perfection. They want it to be perfect before it ever sees the light of day. it will never be perfect. We all know, perfect does not exist. It is a great goal. It is a great brass ring out there that we constantly keep grabbing for. We are never going to get there. And unfortunately, what happens is, in reaching for that brass ring all the time, they never do anything. They totally abandon all the benefits they might get from all forms of new media — whether its blogging or podcasting, whatever — waiting for perfection. And I always say — I have a theater degree, that's the degree I graduated college with. I worked in the costume shop as part of my theater degree. And we had a costume designer who was very fond of saying, "Perfect is good. Done is better! The actor has to go on stage wearing something. So if that stitch isn't quite right, you know what? We'll pin it. They have to go out there now." That is something I took to heart back in the early 80's when I was in college. Yeah, perfection is something we reach for, knowing we'll never get there, but up until the point — we search for perfection up until the point where it prevents us from actually doing something. So, that is the balance you have to strike. You have to find that balance of "it's not perfect, but it's good enough. It presents my ideas clearly enough and to just try to avoid the analysis paralysis of "it's not good enough. It's not good enough," and work around that because that is a very common problem that we run into.
---
 Enjoy this video? Consider a donation via PayPal to support further new media demos, talks, videos, and podcasts.
---
Previously on New Media 101/Blogging 101:
More information on Douglas E. Welch and Careers in New Media: