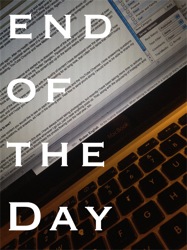 Joseph ended his run in West Side Story tonight, so I am typing this up in the car as we drive home from the cast dinner.
I am so glad he decided to get involved in theater. I think it has lots of benefits for life in general, but it also gives Rosanne and I a small chance to relive our own theater past. We have always felt there is something special about the theater and will carry that with us always. We're excited to see what shows they decide to produce next year.
Tomorrow we are off to another robotics tournament — yet another part of our family life. For now, though, it is time to grab some sleep, content in the knowledge of a job well done.
Previously on End of the Day: