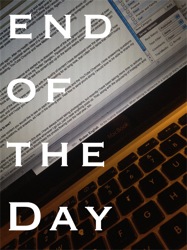 No, I'm not talking about Spring, the season, but rather Spring Break! (Woohoo!) Ok, so I am not exactly the one shouting Woohoo, but the boy is pretty happy is is off of school for over a week. Since he has no school tomorrow, he immediately fired up his gaming computer and has been playing online with his friends for the last several hours. He doesn't get to play during the school week, so an entire week of "extended play" is what he is all about right now. I'm sure we'll come up with a few things to do outside the house, though. Rosanne is back to work teaching this week, so it will mainly be about us. There are a few places I have been meaning to go to shoot photos and video. I am close to 300 subscribers on my YouTube Channel and it is traditional to do something special for such milestones. Not sure exactly what this is right now. It might mean doing several videos, one for each of my topics like gardening, technology, careers and new media, since my subscribers are made up of all those audiences.
The garden is where I will be spending most of my Spring Break, I think
Still, most of this week will be chill and fun. I wonder if I could convince Joe to take a trip to Santa Barbara or some similar location one day. I haven't been in a while and it might be a nice trip. It will be a trick to pull him away from his "digital backyard" with all his friends, but even they have to sleep sometimes. Being on the west coast, he does experience that some nights. Just when he is ready to settle into a long match of League of Legends his buddies back east are off to bed.
As for me, this week continues much like the others. I have settled into my daily routine of posting, emails, social media, podcasting and more and I am working to continue this and even do more. It can sometimes feel like a bit of a treadmill, but I think I am producing some good stuff that people appreciate, so that keeps me itching to do more. I also get to talk to interesting people a lot, which certainly helps. Nothing helps you own creativity like talking with other creative people.
Has your Spring Break already happened or are you entering into it like us? What are you favorite Spring Break activities (that don't involve a trip to Daytona Beach or similar places?) (LAUGH)
Previously on End of the Day: