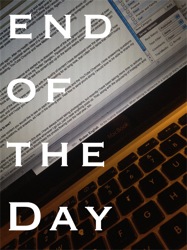 There are some days that just give you a sense of accomplishment at the end as you ease your tired body into bed and today was one of those days. First, I had gone to bed much earlier than usual and arose earlier as a result. This allowed me to fulfill all my daily routine obligations of blogging and posting before the major event of the day.
\Rosanne was presenting on "Doctor Who and Culture" at Cal Poly Pomona as part of National Library Week and I went along as factotum and Majordomo. I was there to tote cases, be a loving, attentive spouse and also to record the event on video, audio and still pictures. Photos and video from the talk will be coming soon, but here is an animated gif to whet your appetite. 
Col Poly Pomona students interview Rosanne after her presentation
I think this was one of the best presentations I have seen Rosanne give and the crowd was SRO (Standing Room Only). it was an attentive crowd, with lots of great questions and overall a great success. Afterwards we retired for lunch together and then moved on to Mount San Antonio Community College for Rosanne to teach her African-American History classes while I worked in the college library on my own projects. After that we returned home secure that we had one of the best days in a long time. Lots was accomplished — and accomplished well. Whenever this happens you need to take time to appreciate and relish it — just as I am doing by writing this. Tonight we shall both sleep well, secure in the knowledge of a day well done.
The next time you have a good day, savor it, remember it and relish it. You can never be sure when the next good day will come along.
Previously on End of the Day: