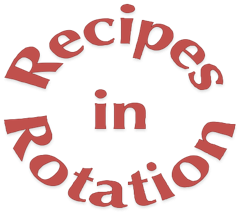 Recipes in Rotation is a series that allows me to highlight recipes that have made their way into "the book." This book is the binder that contains recipes we make on a regular basis — at least monthly and in some cases, every two weeks. I keep them in this special binder for quick and easy access without sorting through a bunch of other recipes to speed things up when I need to get dinner on the table.
Today's recipe is a Tuscan Sausage and Potato Soup
This was one of the first soups I learned to make well, many years ago. What is funny, is that this is based on the Toscana Soup sold at Olive Garden restaurants all over the US. Of course, as usual, over the years we have modified this recipe almost out of any recognition. We don't use heavy cream, for one and add more vegetables for another. This soup has become the base for almost all the chicken stock based soups we make.
Tuscan Sausage and Potato Soup
(See this recipe on Bakespace.com)
Ingredients
1/2 pound Italian sausage links (removed from casing and crumbled)
3/4 cup diced onions
1 carrot
1 stalk celery
1 slice bacon, cut into 1/4-inch dice
1 1/4 teaspoons minced garlic
4 cups nonfat, low-sodium chicken broth
2 baking potatoes, peeled, halved lengthwise and cut into 1/4-inch slices
2 cups kale or other greens, thinly sliced
Splash of milk
Salt
*Parmesan Rind (if available)
Instructions
Remove sausages from casing and brown in skillet. Set aside.
Place onions, carrot, celery and bacon in 3- to 4-quart saucepan and cook over medium heat until onions are almost transparent, 3 to 4 minutes. Add garlic and cook 1 minute.
Add chicken broth, potatoes and parmesan rind. Bring to boil, reduce heat and simmer 15 minutes. Add greens, sausage, milk and salt to taste. Simmer 5 minutes longer.
6 servings.
More Italian Soup recipes:
Previously in Recipes in Rotation: