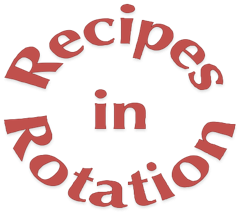 Recipes in Rotation is a series that allows me to highlight recipes that have made their way into "the book." This book is the binder that contains recipes we make on a regular basis — at least monthly and in some cases, every two weeks. I keep them in this special binder for quick and easy access without sorting through a bunch of other recipes to speed things up when I need to get dinner on the table.
My latest cookbook, Recipes in Rotation, is now available from Bakespace's Cookbook Cafe iPad app and web site. This contains 15 recipes first seen in the Recipes in Rotation series here on My Word with Douglas E. Welch. The cookbook is available for free.
Today's recipe is a BBQ Turkey Meatloaf
When we were first married, meatloaf was a staple meal for my wife and I. That said, we never hit on a recipe that we really liked, so meatloaf fell out of rotation for a long time. As we switched from ground beef to ground turkey as our main, regular, protein, we looked for recipes again, but it wasn't until a year or so ago that we happened across this recipe. Our first attempt worked well and it was quickly added into the regular rotation of meals in the house.
The plentiful sauce means it works well with ground turkey, which can have issues with dryness when making a meatloaf. The BBQ sauce helps everything stay moist and provides a nice sauce with the finished dish, as well.
BBQ Turkey Meatloaf
(See this recipe on Bakespace.com)
Ingredients
1.25-1.5 pounds ground beef or turkey
1 cup Italian seasoned bread crumbs
1 tsp onion powder
1 egg, lightly beaten
1 teaspoons salt
1/2 teaspoon pepper
1/2 teaspoon chili powder
pinch red pepper flakes
pinch cayenne pepper
1 – 14oz cans tomato sauce
3 tablespoons white vinegar
1/4 cup light brown sugar, packed
2 tablespoons yellow mustard
2 tablespoons Worcestershire sauce
Instructions
Preheat oven to 350 degrees F. Lightly coat an 11×7 baking dish with cooking spray.
Mix together the beef or turkey, bread crumbs, onion powder, egg, salt, pepper, and 1/2 c. of the tomato sauce. Form mixture into a loaf and place into prepared baking dish.
In a medium bowl, whisk together the rest of the tomato sauce, vinegar, sugar, mustard, and Worcestershire sauce. Pour the sauce over the meatloaf.
Bake for 1 hour, basting every 15 minutes or so with the pan juices.
More meatloaf recipes:
Previously in Recipes in Rotation: