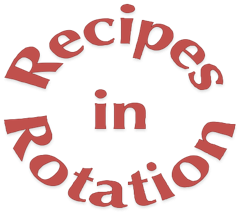 Recipes in Rotation is a series that allows me to highlight recipes that have made their way into "the book." This book is the binder that contains recipes we make on a regular basis — at least monthly and in some cases, every two weeks. I keep them in this special binder for quick and easy access without sorting through a bunch of other recipes to speed things up when I need to get dinner on the table.
Today's recipe is a Risotto Rosso with Sausage
We originally ran across this dish as a microwave recipe in Sunset Magazine which then converted to a more traditional stove top version. Then I found a cookbook, Cucina Rustica by Viana La Place and Evan Kleiman. Over the years, I have tweaked the recipe to match our own preferences. Here is my adapted version. It is spicy and filling comfort food.
Risotto can seem intimidating, but as long as you go slow and steady with the addition of the stock, it basically makes itself. It is this slow process that allows the rice to release its starch and make the risotto creamy without any real creamy ingredients. Remember, slow and steady win the race with this recipe.
We also regularly make Risotto Milanese, a saffron-flavored risotto and I will highlight that recipe in an upcoming Recipes in Rotation post.
Risotto Rosso with Sausage
(See this recipe on Bakespace.com) 
Ingredients
2 Tbsp Butter + 1 Tbsp Butter for finishing
3 Tbps Olive Oil
1 onion
3 links (1/2 lb) mild Italian Sausage
4 cloves garlic
2 14oz cans tomato sauce or other canned tomatoes
1 handful (15 leaves) fresh basil or 1 Tbsp Dried Basil
2 cups Arborio Rice
1 cup Red Wine
2 quarts Chicken Stock
Salt and Pepper
Pinch Red Pepper Flakes
Tiny Pinch Cayenne Pepper
1 cup Grated Parmesan Cheese
Instructions
Put stock in small sauce pan and heat until steaming. Then place on low heat to keep warm
Heat 2 Tbps butter and olive soil in large, heavy sauce pan or Dutch Oven over medium heat
Chop onions and garlic and add to oil. Cook until translucent and soft
Remove sausages from casing (and in case you're a fan of making homemade sausages, here are the DCW Casing prices) and crumble into pot. Brown meat until no pink remains
Add red wine to deglaze pan and cook until wine is reduced by half
Add tomato sauce or tomatoes and cook until a slightly thickened sauce is formed
Add Aroborio Rice and cook until all the sauce is absorbed
Add first ladleful of stock to rice and meat mixture. Cook and stir until completely absorbed.
Repeat, stirring frequently to prevent sticking. Let each ladle of stock be absorbed before adding next ladle.
After 5-6 ladles, add salt, pepper, red pepper flakes and cayenne.
Continue adding stock until rice is al dente — without crunch but not mushy
Once rice us cooked, remove from heat and stir in butter and parmesan cheese
Serve warm with additional parmesan
More risotto recipes:
Previously in Recipes in Rotation: