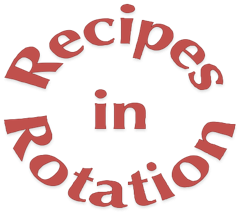 Recipes in Rotation is a series that allows me to highlight recipes that have made their way into "the book." This book is the binder that contains recipes we make on a regular basis — at least monthly and in some cases, every two weeks. I keep them in this special binder for quick and easy access without sorting through a bunch of other recipes to speed things up when I need to get dinner on the table.
Today's recipe is a Gnocchi alla Ciociaria
We were invited over to cook in our friends newly remodeled kitchen last night, so I decided to make my favorite "pasta" dish, Gnocchi alla Ciociaria. I found this recipe year's ago as part of Mario Batali's Molto Mario show on Food Network. It is not something you would want to make every night, but I usually bring it out for friends as it is such a wonderful meal. Even better, the sauce is easy, too, as you basically just dump all the ingredients into a skillet and let it cook while you make the gnocchi.
Gnocchi is one of the easiest pastas to make, but provides lots of "hands-on" fun. Our friend's kitchen has a near-commerical stove and a huge expanse of granite counter which was perfect for pasta making. I was quite in "hog heaven" to be able to cook there. Everything is so much easier when you have the proper equipment and plenty of space. We are already planning another evening to make traditional rolled pasta here. I am certainly looking forward too it.
Gnocchi alla Ciociaria
(See this recipe on Bakespace.com)
View 29 photos from "Making Gnocchi with Friends" on Flickr
Ingredients
1 pound russet potatoes
2/3 cup all-purpose flour
1 egg
1/2 teaspoon salt
3 tablespoons canola oil
3 tablespoons extra virgin olive oil
2 ounces pancetta, diced Finely chopped bacon works in a pinch
1 clove garlic, finely chopped
1 small onion, finely chopped
1 rib celery, finely chopped
1 carrot, finely chopped
1 bunch Italian parsley, finely chopped to yield 1/4 cup
4 sweet Italian sausage links, removed from casing
1 cup red wine
1 (16-ounce) can San Marzano tomatoes
1 teaspoon red chili flakes
Salt and pepper, to taste
Freshly grated pecorino romano
Instructions
Place the whole potatoes in a saucepan with water to cover. Bring to a boil and cook at a low boil until they are soft, about 45 minutes. While still warm, peel the potatoes and pass them through a vegetable mill onto a clean pasta board.
The pasta sauce will take just about as long to cook as the gnocchi takes to make, so get the sauce started and bubbling away and then make the gnocchi.
For sauce…
In a 12 to 14-inch skillet, heat the olive oil over high heat until almost smoking. Add the pancetta, garlic, onion, celery, carrot, parsley and the sausage meat and cook over high heat until sausage and vegetables are browned. Add the red wine, let it evaporate, then add the tomatoes and the pepper flakes. Adjust the seasoning with salt and pepper and lower heat to a simmer. Let cook for 45 minutes.
For gnocchi…
Make a well in the center of the potatoes and sprinkle all over with the flour. Break the egg into the center of the well, add the salt, and, using a fork, stir into the flour and potatoes as if you were making pasta. Once the egg is mixed in, bring the dough together, kneading gently until a ball is formed. Knead gently another 4 minutes, until ball is dry to the touch.
Divide the dough into 2 large balls. Roll each ball into 3/4 inch-diameter ropes and cut the ropes into 1-inch-long pieces. Flick the pieces off of a fork or along the concave side of a cheese grater to score the sides. Drop the dough pieces into the boiling water and cook until they float to the surface, about 1 minute. 
Once the sauce is thickened to the proper consistency, cook the gnocchi f in the boiling water until they float aggressively. Drain the gnocchi and add to the simmering sauce. Toss very gently over heat 30 seconds to coat, then divide evenly among 4 warmed pasta bowls. Top with freshly grated pecorino and serve.
More gnocchi recipes:
Previously in Recipes in Rotation: