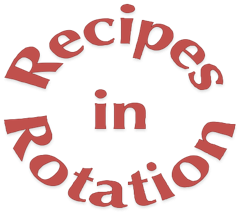 Recipes in Rotation is a series that allows me to highlight recipes that have made their way into "the book." This book is the binder that contains recipes we make on a regular basis — at least monthly and in some cases, every two weeks. I keep them in this special binder for quick and easy access without sorting through a bunch of other recipes to speed things up when I need to get dinner on the table.
Today's recipe is a Italian Wedding Soup (Zuppa di Matrimonio)
Despite it's name, Wedding Soup is not usually served at weddings, but rather, it is named this because it is a wonderful "wedding" of ingredients.
This soup started out with a very basic stock base, but over the years we have made it more and more like our typical chicken soups, with lots of vegetables included. You can also include a piece of parmesan rind to kick up the flavor. We often do this with most of our homemade soups.
We usually make this about once a month and there are always plenty of leftovers for lunches and dinners on night when we are too busy to consider cooking a complete meal.
Italian Wedding Soup (Zuppa di Matrimonio)
(See this recipe on Bakespace.com)
Ingredients
For the meatballs:

1 lb ground turkey
1 egg
2 Tbls bread crumbs
1 Tbls grated Parmesan Cheese
1/2 tsp dried basil
1/2 tsp onion powder
For the soup base:

2 Tbls olive oil
6 cup chicken stock
1 medium onion
1 carrot
1 celery
3 inch section of broccoli stalk (optional)
2 cups chopped kale
2 inch piece of real Parmesan rind (if available) *
1 cup orzo pasta
Instructions
Chop onion, carrot, celery and broccoli stalk in food processor
Heat oil in large pot, add vegetables above and cook over high heat until soft
Add chicken stock and parmesan rind and heat to a low boil.
Lower heat
Mix all meatball ingredients and form into small, spoon-sized meatballs
Drop meatballs into boiling stock in small groups. Stir between each addition to prevent sticking
Once all meatballs are added, add orzo and simmer until orzo is cooked al dente
Add chopped kale, stir and cook until just wilted
* If you buy real Parmaggiano-Reggiano cheese, it will have a thick rind which is normally inedible. Adding this to a soup or stock, though, adds a tremendous amount of flavor to the soup. You can discard the rind once the soup has completed cooking.
More soup recipes:
Previously in Recipes in Rotation: