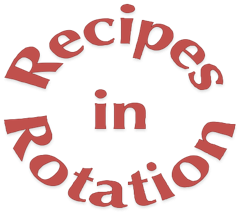 Recipes in Rotation is a series that allows me to highlight recipes that have made their way into "the book." This book is the binder that contains recipes we make on a regular basis — at least monthly and in some cases, every two weeks. I keep them in this special binder for quick and easy access without sorting through a bunch of other recipes to speed things up when I need to get dinner on the table.
Today's recipe is a Sugo Sciue Sciue
This is one of our typical "go to" pasta sauces for building a filling, comforting and tasty dinner is just about 30 minutes. For us, it also yields plenty of leftover for later in the week. I like this sauce both for its speed of assembly and also for the way the meat breaks up into small pieces and mingles so nicely with the pasta.
As the name implies, this is a quick ragu, not one that is designed to cook for hours and hours. This gives is a slightly fresher taste, especially if using who, fresh tomatoes instead of canned tomatoes or tomato sauce. I like my pasta sauce smooth, so tomato sauce is my base of choice, perhaps with a small addition of Italian Tomato paste.
Sugo Sciue Sciue
(See this recipe on Bakespace.com)
Ingredients
2 Tbls olive oil
1 large onion, peeled and chopped
3 cloves garlic
1 lb ground turkey
1/2 cup chopped fresh parsley or 1 Tbls dried
8-10 fresh basil leaves or 1tsp dried
2 14oz cans tomato sauce, or 28oz chopped fresh tomatoes 
Salt and Pepper
1/4 tsp Red Pepper Flakes
Pinch cayenne pepper
1 lb pasta of your choice
Grated Pecorino or Parmesan cheese for the table 
Instructions
Heat olive oil in large, tall-sided pot or skillet
Add chopped onion and garlic and cook slowly over low heat until soft
Add meat and sauté over high heat. Break up any large lumps
Add parsley and basil
Cook until meat is no longer pink
Add tomatoes, salt and pepper, red pepper flakes and cayenne pepper
Cook over medium-low heat until sauce comes together and thickens, approximately 30 minutes. There is no need to cook this for hours.
Cook pasta as directed, drain — reserving a bit of the pasta water
Add drained pasta to the sauce and cook for 1-2 minutes longer. Add a bit of pasta water if the sauce is too thick
Serve while warm with Pecorino or Parmesan Cheese for topping 
Serves 4-6
Adapted from Cucina Rustica by Viana La Place and Evan Kleiman
More pasta recipes:
Previously in Recipes in Rotation: