What might you find in these old cookbooks? What special recipes have been handed down to you? Share in the Comments!
Historical Cooking Books – 112 in a series – The art of sweetmaking: (bonbons, chocolates, fondants, marzipan, etc., etc.) (1901) by Beatrice Manders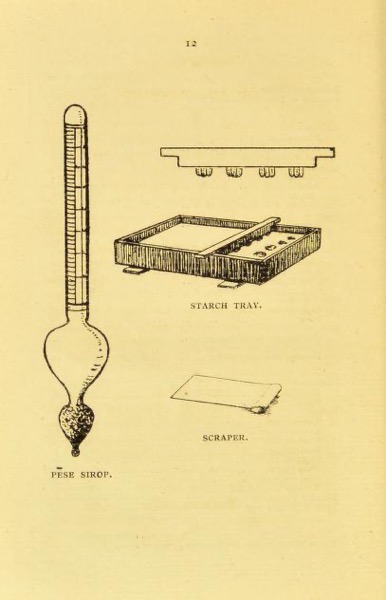 Available in PDF, Text, JPG formats, and more
PREFACE.

THIS little book has been written at the repeated request of my past and present pupils, and in order to satisfy the numerous enquiries which reach me for an inexpensive and practical book on Sweetmaking. As far as I know there is no other English book on the subject of any use to the amateur who wishes to make only a few sweets at a time. The few books already published on confectionery are written entirely for the trade, and the proportions are naturally large ; they also presuppose some technical knowledge of the use of machinery. I have collected the following recipes during the past five years. Many have been given me by American and Australian pupils, and I have tested them again and again in my School. Some have been picked up during my travels, and many of the best were taught me by chefs in Paris.

I am very glad to have been the means of reviving the pretty art of Sweetmaking among women, and hope this small work will save many from wasting time and materials.

To the confectioners who have helped me, both at home and abroad, I give my hearty thanks. I hope they will look indulgently upon a work which does not pretend to be of use to those from whom I have learnt so much.

B. M. MANDERS.
Publication date 1901

Publisher London : Secretarial Bureau

Collection leedsuniversitylibrary; ukmhl; medicalheritagelibrary; europeanlibraries

Digitizing sponsor Jisc and Wellcome Library

Contributor University of Leeds Library

Language English
---
Get these aprons for your cooking adventures.