TV Worth Watching is a new series highlighting my favorite television viewing. I am a big fan of UK television, so you are sure to see many UK shows and movies featured here. — Douglas
---
Miss Fisher's Murder Mysteries (Australia)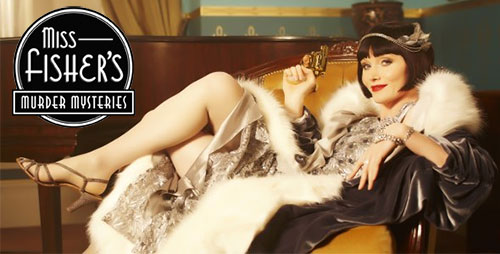 Watch Miss Fisher's Murder Mysteries on Netflix
Miss Fisher Murder Mysteries books and DVDs from Amazon.com
As Summer vacation arrives, we have had a bit more time to relax and watch a little television. Poking around in Netflix, I found Miss Fisher's Murder Mysteries as a suggestion since I tend to watch lots of mysteries and police procedurals like Miss Marple, Poirot, Inspector George Gently, Endeavour and more. I was pleasantly surprised with what I found in this series.
Set in Melbourne in 1928, the show is a fairly standard period detective show, but it then reaches out to address the issues of the day (and our day) like women's rights, drug abuse, political strife and more. The acting is top notch, especially Essie Davis' portrayal of the protagonist. The writing is also quite good, with several twists catching me off guard in the first 7 episodes we have watched.
It is refreshing to watch television from other countries and see the world through their eyes and their art. I have always loved UK television (and watch a lot of it), and it is great to see that Australia has some great, entertaining shows to offer, too. 
If you are a mystery love and looking for a good romp, you should check out Miss Fisher's Murder Mysteries. I think you will enjoy it quite a bit.
Get ready to immerse yourself in the opulent, exciting world of Australia's leading lady detective Phryne Fisher (Essie Davis), in ABC1's new 13-part drama series Miss Fisher's Murder Mysteries. Phryne (pronounced Fry-nee) is a glamorous and thoroughly modern woman of the 1920s. Our lady sleuth sashays through the back lanes and jazz clubs of Melbourne, fighting injustice with her pearl-handled pistol and her dagger sharp wit.

After many years abroad, Phryne returns to Melbourne, in part to start a new life in her home town, but to also ensure that Murdoch Foyle (Nicholas Bell), the man thought to be responsible for her younger sister's mysterious disappearance, never gets out of jail. But before her very proper Aunt Prudence (Miriam Margolyes), a well-known society matriarch, can drag Phryne off to attend her first soiree, Phryne finds herself embroiled in a murder.

She befriends the most unlikely of murder suspects – an innocent Catholic girl, Dot Williams (Ashleigh Cummings). Phryne takes Dot under her wing, employing her as a maid. Over time, Dot becomes one of Phryne's closest companions; with Dot's natural intelligence in all things domestic and catholic she is often an unexpected asset in Phryne's murder investigations. From illegal abortions to union disputes, exploited workers and missing girls, Phryne finds justice for those who can't help themselves.

As she delves deeper into the murky world of murder, Phryne crosses paths with the local constabulary, befriending the handsome Detective Inspector Jack Robinson (Nathan Page). Despite being married, Jack finds himself drawn to Phryne's vibrant personality and seeks to ensure that she is kept out of harm's way as they endeavour to solve the cases.

They come to rely on each other, Jack for the information he gets through diligent police procedures, and Phryne for the information she obtains using her charms and daring. When Jack won't give Phryne the information she needs, she can easily manipulate Jack's trusting deputy, Constable Hugh Collins (Hugo Johnstone-Burt), to keep her informed even if he is not aware he is doing so. Leaving a trail of admirers in her wake, our heroine makes sure she enjoys every moment of her lucky life and along the way she unlocks the truth of her own dark history.

The Honourable Miss Phryne Fisher began life in 1989 as the daring lady detective protagonist of a series of 18 crime books written by Australian author, Kerry Greenwood. With an acquired taste for the best, but impeccable working-class origins, Phryne was an instant success with readers and still shows no sign of hanging up her pearl-handled pistol or giving up her 'adventurous' love-life for just one man.
More information on Miss Fisher's Murder Mysteries (Australia):
Previously on TV Worth Watching…