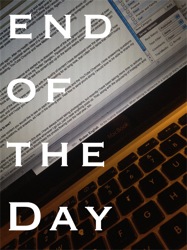 The month ends on a high note with good food and good friends this evening. After a day of working at home with Rosanne we finally got cleaned up around 5pm and headed out to Creme Caramel LA for their first Food Truck Friday. While I am familiar with the food truck craze, I haven't had lots of opportunity to engage in it. Having this event so close by made it easy and I am always eager to support Creme Caramel, who has brought such a great place right to our own backyard. It also gave us a chance to meet up with some friends who we haven't seen in a while.
Tonight's trucks included White Rabbit Filipino Fusion Food and The Grilled Cheese Truck. I ended up with a Grilled "CAB" Sandwich which is cheddar, apple slices and bacon grilled to perfection. I even indulged and got a side order to Tater Tots. Yum! Rosanne had the Citrus Beef from White Rabbit which was also delicious. We then engaged in a coffee and pastries from Creme Caramel itself.
With bellies full and warm we then retired back to the house for some catching up and conversation. Nothing makes me happier than sitting around talking to people. It was great to touch base with these friends who are just as busy as we are. We don't often get time to chat face-to-face, although we stay connected via Facebook and other online methods. We talked about the kid's school and other experiences, food, I showed off the Chromecast media player and we talked a little architecture since that is my friend's work. Always good to geek out a bit on a topic that interests me, but I don't have a lot of other friends who are are as interested in architecture as I am.
It is always wonderful to be reminded that some time spent with friends can be even more enjoyable than expensive restaurants and noisy clubs. It is certainly much more in line with my rural upbringing and inclination. Some good food, good drink and good conversation will always be where I turn when I want a little fun.
A few more pictures from tonight's Food Truck Friday…
Previously on End of the Day: