Douglas E. Welch YouTube Channel reaches 200 subscribers!
Great news this afternoon as my YouTube Channel (home to all my video work from all the WelchWrite blogs and podcasts) has just reached 200 subscribers! You'll also notice from the screenshot below that I am approaching 180k views on the channel, too. Hard to believe that many people have watched my videos, but also a great feeling to think that people find them useful and/or fun.
Thanks to all who are subscribed! Let me know what programming I can provide (or continue to provide) that makes your subscription valuable to you. I want to keep you around for a long time!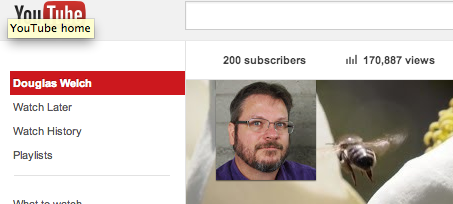 Want to join in on the YouTube fun? Subscribe directly on my channel at http://youtube.com/dewelch