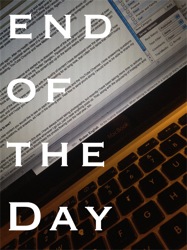 They grow up so fast, that is what they always told use. Sure enough, each day we are faced withn the fact that our son is growing up. Tonight, he dressed up nicely in his suit (yes, he actually owns a suit) and took his girlfriend to the Winter Formal at his high school.
Rosanne was struck with the overwhelming "cuteness" of it all when we dropped them off at school and they were greeting by their friends who happened to be arriving at the same time. She doubts we were ever quite so cute at that age, but I would guess we were quite similar. That said, I don't think I was ever as popular as Joe is. He has a great set of friends from many different areas of the school, including those in his tech-focus program, the theater kids and the kids who like to geek out on video games, anime and popular culture in all its forms. It is great to see him have a relatively good time in high school when my own experience was only so-so.
That is one of the advantages of a smaller school, too, I would guess. You get to know all your fellow students a bit better and it seems to me that the cliques that naturally form are a bit more fluid and exhibit a bit less power over those who are not members. It is hard to believe that his school is not much larger than the one I attended, if based just on the number of students. We live in such a large city and yet there are still ways of having a small town experience. I like that aspect of living here. It has given Joe experiences that would have never been possible for me and yet still gives him the opportunity to be a kid in ways that even I would recognize.
I hope they had a good time tonight. High school is a time for just experiencing life and what it brings without being burdened by too many adult worries. I want them to relish this time of "just being kids" for at least a little while, The "real world" will be staring them in the face before too long. That said, I eagerly look forward to them becoming adults and creating their own life, too. I joke with Joe all the time about "Happy 18th Birthday! No get out!", but I wish that for more than just selfish reasons. I want him to find his own path, his own way, his own life and make it the best he can, even if it is quite different from our lives.
Previously on End of the Day: