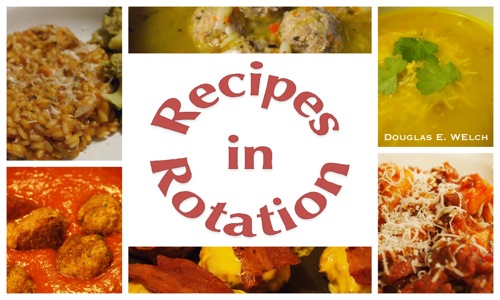 My latest cookbook, Recipes in Rotation, is now available from Bakespace's Cookbook Cafe iPad app and web site. This contains 15 recipes first seen in the Recipes in Rotation series here on My Word with Douglas E. Welch. The cookbook is available for free.
You can download the Cookbook Cafe iPad app from the iTunes App Store  and then "buy" the cookbook from within the app or access the cookbook directly from the Bakespace.com web site.
Recipes in Rotation are the recipes we use most frequently here at our house. These recipes are in a special notebook that is always close at hand. While we often try to add new food to our family rotation (See the New Food series, also here on My Word), these are the standards we return to again and again.
Recipes in Rotation joins my previous 2 cookbooks for Cookbook Cafe: