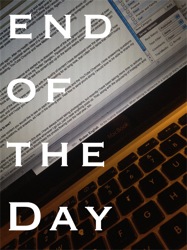 Working for yourself — in a home office — is always a bit odd, no matter how long you have done it. I have been working out of the home office for years, but today was one of those days where you aren't really sure what day of the week it is. After our trip to garden show yesterday I have almost 200 photos and 84 video clips to sort through, select, edit, upload and blog. Since Rosanne and Joseph were off at the Botball tourney today, I had the house to myself. So instead of a Saturday, it might as well have been a Monday. I had a little breakfast and immediately set to work. About 8 hours later, they returned, we had dinner and settled in for a relatively normal evening gaming, watching TV and reading.
Not my typical office day…but sort of (SMILE)
Of course, one benefit I have that traditional workers don't is that I can decide to take off in the middle of the week, if I want. I have a collection of tasks that need to be done everyday — blogging, posting photos. answering comments, etc — but once those are done, I can decide to walk up to the coffee shop, do a little thinking and chill for while. Then again, in this situation, you also have to force yourself to take these breaks every so often. It can be way to easy to work, work, work, as there is always something that needs to be or should be done. I am always coming up with more idea than I can possibly implement, but this also means a ready reserve of "projects" to be started if I decide to go down the work "rabbit hole."
Tomorrow, I think, will be a more traditional Sunday "day of rest" and all that. The family is all home except for one short church event, so it will be a time to relax and prep for the coming week. I always keep my calendar in week mode, as this is the way I think about my life. I like to know what is expected in the next 7 days. Looking 1 day out is too short a time frame and my monthly calendar is so full of events I can see them all in month view!
Another trip to Santa Cruz Island
This week is looking pretty open, although we have our second trip to Santa Cruz Island this coming Saturday. We are visiting a different part of the island, so it won't just be a repeat of our previous trip. That said, I love to get out on the ocean whenever I can. I don't really have the desire (or funds) to own a boat myself, so when these trips arise I am always inclined to go. Add to this the fact that the trips are planned and hosted by some good friends and it makes it almost a no-brainer to sign up.
You can see my photos and video from our first trip in the links below. I think there might be a few seats left on this trip, if you are interested. Drop me a line and I will check the availability. It is a great chance to set foot on one of our less visited National Parks.
Photos: Trip to Santa Cruz Island with Friends of the Island Fox
Places LA: Video: A Trip to Santa Cruz Island with Friends of the Island Fox
Previously on End of the Day: