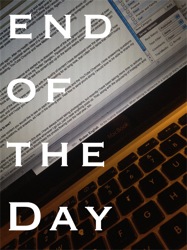 Tomorrow Joe starts his Junior year of high school and next week, both he and Rosanne are back in school full time. You would think I would be used to all this by now, but each new year brings a new set of challenges, a new set of worries and new tasks that need to be performed. Sure, we've learned a lot over the years, but there are always new requirements, new forms, new people that have to be dealt with.
I will say, as nice as the Summer has been, I am looking forward to a little more quiet time during the day. I'll be complaining about all the time alone by the end of the semester, I am sure, but that is always the nature of things. The semester is always out of balance one way or the other and there is not a lot we can do about it, except deal with it.
So, I think tonight will be a short entry so I can get to bed at a decent hour and get back on my semester schedule like everyone else. It time to get back on the treadmill again.
Previously on End of the Day: