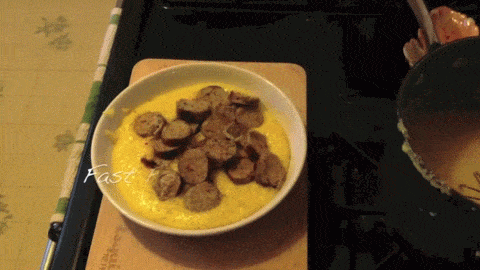 Polenta is extremely versatile can can be made sweet, savory, cheesy or with just about any flavor you might wish. It is a great staple recipe to have in your cooking repertoire.
I captured this Fast Food episode using the new Hyperlapse app from Instagram, I think this could become an entirely new series for me. Quick explanations and demonstrations of food that anyone can cook.
Polenta (or cornmeal mush from my Ohio childhood days) is a great change from pasta or rice and provides a great base for braised meats like pulled pork, pot roast or osso bucco. It mixes with and absorbs all the flavors of the meat and provides a warm and hearty meal. Sauteed or baked vegetables and greens could also prove a wonderful topping. On this occasion, I topped mine with some grilled cilantro pecorino sausages.
I originally learned to prepare this by pouring the cooked polenta into a greased baking dish, cooling it, cutting it into squares and grilling it – a traditional Italian method. I have found, though, that I prefer it served piping hot and creamy with whatever I care to add as a topping or accompaniment.
Check out my previous post on polenta, New Food: Crockpot Pork Shoulder/Loin served over Polenta
For more of My Word on Food, visit this YouTube playlist
Cornmeal Mush/Polenta

(Adapted from The Joy of Cooking) 

Combine and bring to boil:
4.5 cups water
1 tsp salt

Slowly add in slow stream, whisking constantly:

1 cup cornmeal

Cook polenta until thick and no longer grainy (about 15 minutes), stirring regularly

When cooked, remove from heat, stir in:

dash black pepper
1/8 tsp paprika
1/2 cup sharp cheddar cheese

Serve immediately into bowls and top with sausage, pulled pork, sautéed vegetables, pot roast or whatever you wish.

or

Poor into greased baking tin to cool and firm up
Cut into squares
Lightly grill/fry
Serve as you would pasta
Music: "Shiny Tech" by Kevin MacLeod (http://incompetech.com) by Creative Commons License
Podcast: Play in new window | Download
Subscribe: RSS