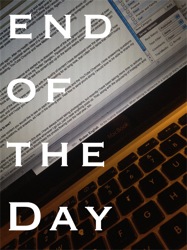 Tonight was an unconventional, but fun, evening here at the Welch's. Although we had had the DVD for a long time, we finally convinced Joseph to sit down and watch one of our favorite musicals with us, Sweeney Todd: The Demon Barber of Fleet Street. This was the movie version with Johnny Depp and Helena Bonham Carter. Although I also love the George Hearn and Angela Landsbury stage version, the movie is quite good and contains most of the great music I wanted to share with Joseph — especially since he just closed his run in West Side Story. I found myself singing along as I have always done. There is marvelous music to be found in this show. The movie also contains many of our favorite UK actors like Alan Rickman and Timothy Spall in deliciously evil roles.
The movie is much gorier than any stage version could ever be, and that detracts just a bit, but the performances are good, even if I feel the both Depp and Bonham Carter are a bit young for the characters they are playing. I am sure this is more a factor of my previous experience with the Landsbury/Hearn version, though. They are actually probably just the right age for the period of the story,  when everyone was "older" at a much younger physical age. I also liked the casting of a young child as Toby. He is able to play the naiveté of the character instead of having to play him as a disabled adult.  
Sweeney Todd is definitely one of those shows I wish I could have done in my theater days. Now, I am probably too old to play any of the roles except perhaps Judge Turpin. Pity, that! At least I would be able to sing Pretty Women. (LAUGH) We had a great time watching together in the dark and Joseph enjoyed it quite bit. Now that he has sung some early Sondheim lyrics I think think he can appreciate his later works all the more. We saw Into the Woods a while ago and that made quite an impact, too.
No matter how old we get, we still return to the theater (or the movie versions of theater) for our most loved entertainment choices. There is something so special about the act of making theater along with the art, the music, the pathos and Sweeney Todd has it in spades. Check out both versions (or maybe some local productions) of Sweeney Todd. I think you will love it!
Watch via Amazon Instant Video or but the DVD
Instant Video | Movie DVD | Broadway Version DVD
Listen to the musical
Previously on End of the Day: