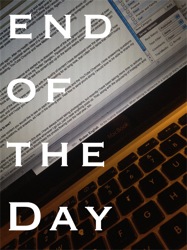 I was woken up early (around 6am) by the cats the morning and i haven't recovered all day. I have been in a bit of a fog. Lots of stuff got done, but I'll be heading off to bed very, very soon. Lack of sleep is a bad, bad thing.
Rosanne is finally now on her summer vacation, so we had more time to hang out today than we have had in a long time. We did a little shopping, helped a friend return a piece of furniture and made 3 dinners for tonight and later this week. We'll engage in a little more outdoor Shakespeare this week, seeing A Midsummer Night's Dream in Encino on Thursday night. Then we're taking in an old fashioned burlesque show this weekend. A fellow professor of Rosanne's performs as one of the comedians in the show. Should be an interesting, old-fashioned night out.
But for now, it is time to lock up the house and hit the hay. Be well!
What I wish I was doing right now.
Previously on End of the Day: