Historical Garden Books – 133 in a series – The Journal of horticulture, cottage gardener and country gentlemen, June 12, 1873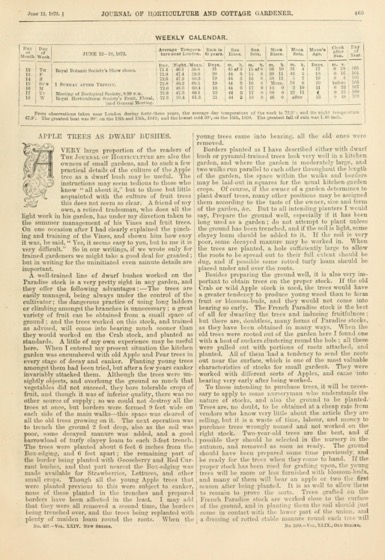 Download in Text, PDF, Single Page JPG, TORRENT from Archive.org
 

APPLE TREES AS DWARF BUSHES.

A VERY large proportion of the readers of The Journal of Horticulture are also the owners of small gardens, and to such a few practical details of the culture of the Apple tree as a dwarf hush may be useful. The instructions may seem tedious to those who know " all about it," but to those but little acquainted with the culture of fruit trees this does not seem so clear. A friend of my own, a retired tradesman, who does all the light work in his garden, has under my direction taken to the summer management of his Vines and fruit trees. On one occasion after I had clearly explained the pinch- ing and training of the Vines, and shown him how easy it was, he said, "Yes, it seems easy to you, but to me it is very ditficult." So in our writings, if we wrote only for trained gardeners we might take a good deal for granted ; but in writing for the uninitiated even minute details are important.

 
Publication date 1861

Topics Horticulture

Publisher London : George W. Johnson and Robert Hogg

Collection americana

Digitizing sponsor The LuEsther T Mertz Library, the New York Botanical Garden

Contributor New York Botanical Garden, LuEsther T. Mertz Library

Language English

Volume 1873, February-June
---
Find more books on Bookshop and Help Indie Book Stores!
---
* A portion of each sale from Amazon.com directly supports our blogs
** Many of these books may be available from your local library. Check it out!