Historical Garden Books – 127 in a series – An essay on the making of gardens; being a study of old Italian gardens, of the nature of beauty, and the principles involved in garden design (1909) by Sir George Reresby Sitwell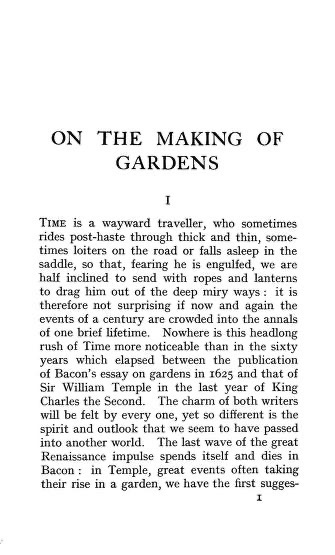 Download in Text, PDF, Single Page JPG, TORRENT from Archive.org
PREFACE

To many excellent people who take a gloomy view of life, studies of art and beauty seem to be but trifling ; I must therefore urge as an excuse for this essay that the greater part of it was written during a period of broken health, when slowly recovering from the effects of over-work. Further, I would plead that a serious purpose lies behind it, namely, that of influencing the newly recovered art of garden design. The revival of garden-craft is the work of English architects, more particularly of Sedding, R. Blomfield and F. Inigo Thomas. But still, as in the days of Fjmes Moryson, the formal garden in England falls short of the great examples of the ItaUan Renaissance ; it is seldom related as it should be to the surrounding scenery ; it is often wanting in repose and nearly always in imagination. During the last few years several sumptuous volumes have appeared illustrating the old gardens of Italy, yet except for a few hints given by Mrs. Wharton in her most valuable and charming book, little or nothing has been said about principles. If the world is to make great gardens again, we must both discover and apply in the changed circumstances of modern life the principles which guided the garden-makers of the Renaissance, and must be ready to learn all that science can teach us concerning the laws of artistic presentment.

I intended to pubhsh with this essay another on the history of the garden during the Dark Ages, but here again Time, against whom I am beginning to have serious grounds of complaint, has been too much for me. However, so far as matter is concerned it is complete, and I hope to issue it in the autumn.

Every one who has travelled in Italy appreciates the courtesy and kindness shown by Italians to strangers of all nationalities — perhaps one would not be wrong in saying more especially to Englishmen. Since I first began in the early 'nineties to study old Italian gardens I have visited more than two hundred in all parts of the country, and I cannot sufficiently express my thanks to the owners.

George R. Sitwell.
---

Publication date 1909

Topics Landscape gardening

Publisher London, J. Murray

Digitizing sponsor MSN

Contributor Cornell University Library

Contributor usage rights See terms

Language English
---
Find more books on Bookshop and Help Indie Book Stores!
---
* A portion of each sale from Amazon.com directly supports our blogs
** Many of these books may be available from your local library. Check it out!