From Gardening Don'ts (1913) by M.C. 15
DON'T brag about your
gardening exploits — it is
so dull for listeners, who don't
want to hear about (even if
they believe in them) the
'masses and masses' of flowers
in your garden, or the enor-
mous height to which your
sweet-peas grow!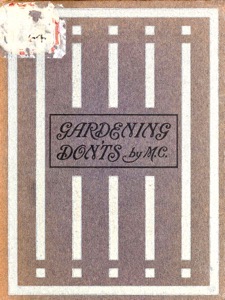 Read and Download the entire book from Archive.org
---
* A portion of each sale from Amazon.com directly supports our blogs
** Many of these books may be available from your local library. Check it out!
Leave a Response
You must be logged in to post a comment.