Below is one idea for tool storage that is close at hand whenever you want to go to work on your garden. I have seen many other permutations of this idea and all of them are great.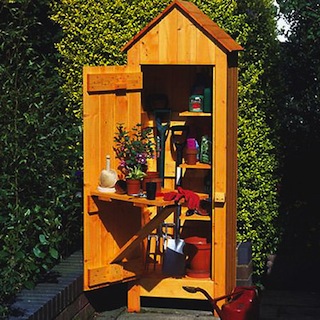 It only makes sense to put your tools in close proximity to where you will be working. Why carry everything, or put everything in a wheelbarrow, to transport it to your garden site when a mailbox, as in this example, an outdoor storage tub, or even a beautiful handmade garden tool shed could be placed right at the edge of the beds.
I know that for me, I tend to be reminded of garden jobs as I am walking through the garden to do something else. Imagine if you could just grab a pair of pruner and quickly take care of that wanton rose bush in this serendipitous moments. I know it will help me greatly. I find that I make a point of deadheading the geranium that hands on the end of our porch whenever we are saying goodbye to visitors that might have come by for the day or evening. It is right there. It is at eye level. It tends to get all the attention it needs. Other parts of the garden can suffer from a bit of neglect as they are off my typical paths.
If you find yourself carting your tools hither and yon in your garden every time you want to do a little work, maybe a little garden-close tool shed is just what you need.
Photo Right: Gardeners Tool Shed from greenfingers.com