Podcast: Play in new window | Download
Subscribe: Apple Podcasts | RSS
A clip from the presentation, "Transition is the New Normal" to OPEN (Outstanding Professionals Employment Network) Ventura County in Simi Valley, CA on March 4, 2016
Watch this entire presentation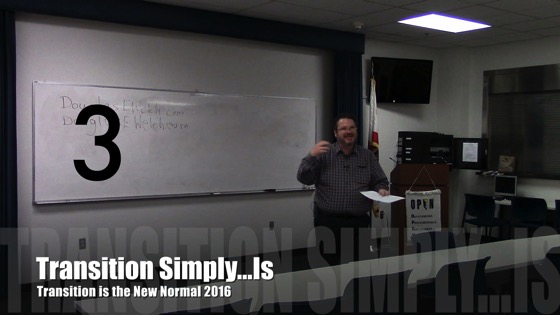 Transcript:
Now, I hope this little experience gives you a little understanding of how normal transition is. We go through transition every single day — in ways large and small — even something as silly as this little exercise. it can cause a lot of upwelling feelings. It can make us a little fearful, but it isn't an odd experience. It should never be seen as an odd experience. It should be seen as something that's normal — something that happens to us every day. "Oh gosh, the road's closed. I've got to find a different way to work or a different way to my coffee place or whatever." Transition simply…is. It's part of our lives. It should be seen as that. 
Links for items mentioned in this talk:
Help Support Career Opportunities!