Historical Garden Books – 136 in a series – Gardens old & new; the country house & its garden environment (1900)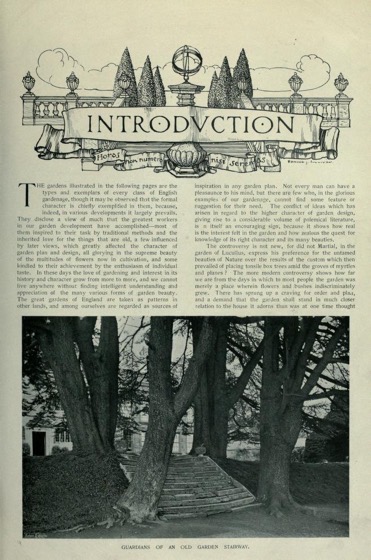 Download in Text, PDF, Single Page JPG, TORRENT from Archive.org
Gardens illustrated in the following pages are the types and exemplars of every class of English gardenage, though it may be observed that the formal character is chiefly exemplified in them, because, indeed, in various developments it largely prevails. They disclose a view of much that the greatest workers in our garden development have accomplished— most of them inspired to their task by traditional methods and the inherited love for the things that are old, a few influenced by later views, which greatly affected the character of garden plan and design, all glorying in the supreme beauty of the multitudes of flowers now in cultivation, and some kindled to their achievement by the enthusiasm of individual taste. In these days the love of gardening and interest in its history and character grow from more to more, and we cannot live anywhere without finding intelligent understanding and appreciation of the many various forms of garden beauty. The great gardens of England are taken as patterns in other lands, and among ourselves are regarded as sources of inspiration in any garden plan. Not every man can have a pleasaunce to his mind, but there are few who, in the glorious examples of our gardenage, cannot find some feature or suggestion for their need. The conflict of ideas which has arisen in regard to the higher character of garden design, giving rise to a considerable volume of polemical literature, is n itself an encouraging sign, because it shows how real is the interest felt in the garden and how zealous the quest for knowledge of its right character and its many beauties.

The controversy is not new, for did not Martial, in the garden of Lucullus, express his preference for the untamed beauties of Nature over the results of the custom which then prevailed of placing tonsile box trees amid the groves of myrtles and planes ? The more modern controversy shows how far we are from the days in which to most people the garden was merely a place wherein flowers and bushes indiscriminately grew.
Publication date 1900

Topics Gardens

Publisher London Country Life

Collection robarts; biodiversity; toronto

Digitizing sponsor University of Toronto

Contributor Robarts – University of Toronto

Language English

Volume 2
---
Find more books on Bookshop and Help Indie Book Stores!
---
* A portion of each sale from Amazon.com directly supports our blogs
** Many of these books may be available from your local library. Check it out!