Historical Garden Books – 135 in a series – American gardens (1902) by Guy Lowell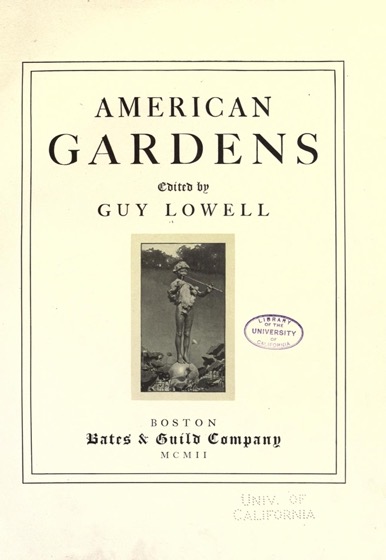 Download in Text, PDF, Single Page JPG, TORRENT from Archive.org
 

INTRODUCTION

THE pleasures of gardening and the enjoyment of the beauties of nature have been favorite subjects with the writers of all ages, so that fortunately we have their descriptions by which to trace the history of the art of gardening ; for nature, whether uncon- trolled, or whether composed and arranged by man, carries within it the elements of constant change. But although gardens themselves are not permanent, may be changed, and must, in time, fall into ruin, each new designer leaves behind him some result as a legacy to those who follow ; and because of this constant evolution it is interesting to trace the in- fluences that have affected the art of garden design in America.

The gardens of America necessarily differ from those of other countries, owing to a different climate, and to different manners and customs from those which prevailed when the most famous typical gardens of the Old World were laid out. Indeed the distinctive charm of our native gardens is due to the very fact that they are adapted to our needs and our surroundings. We have given them an American character, and yet have preserved many of the elements and followed many of the principles that have been developed in other lands by centuries of garden building.

In following the history and tracing the origin of these principles and elements we must consider the garden as a work created by man. Much of its charm will always be due to the accidental and the unexpected, but nature must be influenced or controlled, otherwise, though the effect may be artistic, the result is not a work of art. When man first attempted to control natural scenery, to combine flowers, trees, and cultivated fields so as to produce an aesthetic effect, and when he rearranged existing natural forms with a desire to create new beauties, then gardening became an art. Till that time the gardener had not necessarily practised the art of gardening ; that is to say, his labors were utilitarian; and it is not utilitarian gardening, except in so far as it may be combined with the decorative, that we have to consider, but that which tends to beautify our surroundings and supplements man's handiwork by adorning it with the beauties of nature.

 
Publication date 1902

Topics Gardens, Landscape gardening

Publisher Boston, Bates and Guild Company

Digitizing sponsor MSN

Contributor University of California Libraries

Language English
---
Find more books on Bookshop and Help Indie Book Stores!
---
* A portion of each sale from Amazon.com directly supports our blogs
** Many of these books may be available from your local library. Check it out!