Historical Garden Books – 144 in a series – The gardener's assistant : a practical and scientific exposition of the art of gardening in all its branches (1907) by Robert Thompson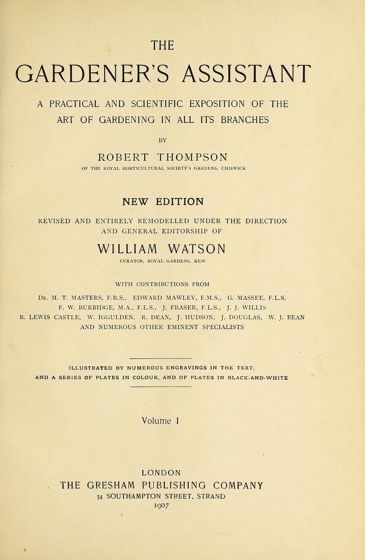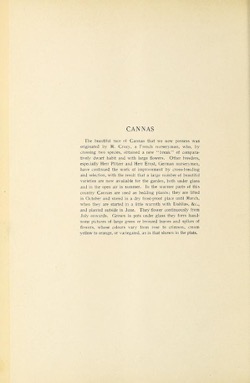 Download in Text, PDF, Single Page JPG, TORRENT from Archive.org
Publication date 1907

Publisher London : The Gresham Publishing Company

Collection biodiversity

Digitizing sponsor Biodiversity Heritage Library

Contributor Smithsonian Libraries

Language English
PREFACE

The original edition of The Gardeners Assistant was issued in 1859, under the editorship of the late Mr. Robert Thompson, Superintendent of the Royal Horticultural Society's Gardens at Chiswick, an eminent authority on all matters appertaining to- English horticulture. He was assisted by Mr. William Paul, Mr. Cock, Mr. Salter, and Mr. Glendenning, who contributed chapters on the subjects of which they were leading practical exponents. The work was at once welcomed as " the soundest and best guide to 'pract ical garden ing that has been published in our times ", " the best book on general practical horticulture in the English language ", &c.

In 1877, and again in 1884, the work was revised and enlarged by Mr. Thomas Moore, F.L.S., Curator of the Chelsea Botanic Gardens, assisted by numerous specialists, including Messrs. W. B. Hemsley, J. C. Niven, F. W. Burbidge, T. Baines, R. Dean, and J. Douglas. The new issue was received with even greater favour than the previous one. Mr. William Tillery, Gardener to His Grace the Duke of Portland, Welbeck, one of the cleverest of English gardeners, wrote concerning it: "I consider this new edition of Thompson's Gardeners Assistant the most complete work on horticulture and floriculture that has ever been published. Every gardener should have a copy of it, both for its practical and scientific interest, and as a guide to all the duties of the profession." The Athenceum described it as "A veritable encyclopedia to which all may turn who wish to have the best and soundest information on the practice of gardening ".

A new edition being again called for, its preparation was commenced under the joint general editorship of Mr. Edward W. Badger and Mr. Archibald F. Barron, but owing to failing health they were compelled to relinquish the task, not, however, before some progress had been made with the work of revision. The duties of general editor were then intrusted to me, and, thanks to the hearty co-operation of numerous specialists, as well as to the sympathetic help and encouragement afforded by the publishers, the work has been completed. The book has been remodelled, revised, and enlarged to such an extent that it is now practically a new work, in which every department of the garden is dealt with in a thoroughly comprehensive manner to meet the requirements of present-day horticulture.

An important feature of this new edition is the illustrations, which in many instances are far more helpful than any words could be. Many of them were specially drawn or photographed for this edition, and I am indebted to numerous friends for the supply of material for the artists to work from. The horticultural press has also been most helpful in this l'espect.

W. WATSON.
Kew, May, 1902.
---
Find more books on Bookshop and Help Indie Book Stores!
---
* A portion of each sale from Amazon.com directly supports our blogs
** Many of these books may be available from your local library. Check it out!