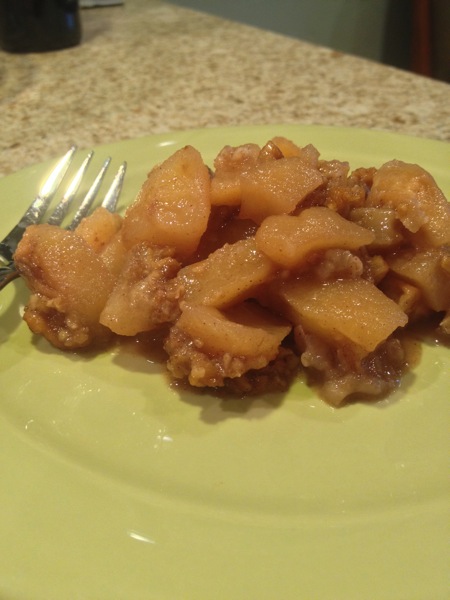 Maple-Walnut Apple Crisp – Served
Our neighbor has two apple trees groaning with fruit. On our walk the other day, we asked them if we might have some of the fruit, since it appeared they weren't harvesting it themselves. Sure enough, we found out they really didn't care for the fruit, so we were given free reign to gather what we wished. The first bowl of fruit my wife gathered was turned into a large batch of applesauce. This second batch, though, becomes dessert for dinner with friend last night.
Apples on the tree
I went looking online for an Apple Crisp recipe to use for this batch of apples and, by happy synchronicity, came across a recipe that used 3 of my favorite ingredients — apple, walnuts and maple syrup. Win! I've included the recipe below.
The crisp came out very, very tasty. The juices were a bit thin. I wonder if mixing in a bit of the crisp mixture with the apples might help to soak up the juice and make the crisp a bit thicker. I would guess this has to do with the amount of apples and how juicy they are, too. That said, it didn't effect the taste which was a perfect blend of apple, walnut and maple syrup.
It did take longer to cooking our over, going for 60 minutes instead of the 45 minutes listed in the recipe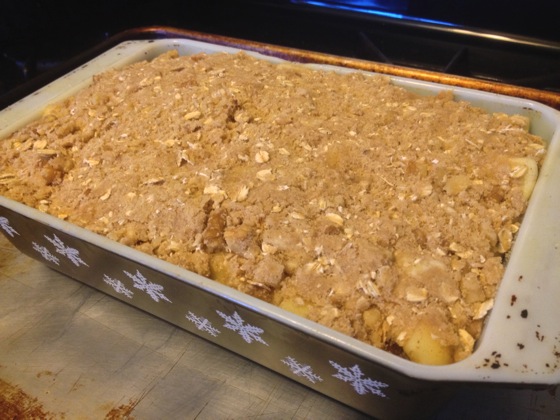 Maple-Walnut Apple Crisp – Assembled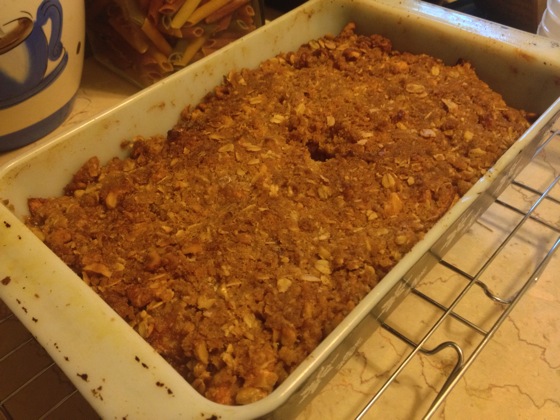 Maple-Walnut Apple Crisp – After Baking
---
Maple-Walnut Apple Crisp from My Recipes
For the crisp topping:
1/3 cup all-purpose flour
1/2 cup packed light brown sugar
1/3 cup regular oats
1/4 teaspoon ground cinnamon
1/4 cup chilled butter or stick margarine, cut into small pieces
For the apple filling:
3 tablespoons chopped walnuts
7 cups sliced peeled Rome apple (about 3 pounds)
1/4 cup maple syrup
1/2 teaspoon ground cinnamon
Directions 
Preheat oven to 375°.
Lightly spoon flour into a dry measuring cup; level with a knife. Combine flour, sugar, oats, and 1/4 teaspoon cinnamon in a medium bowl; cut in butter with a pastry blender or 2 knives until mixture is crumbly. Stir in walnuts.
Combine apple and remaining ingredients in a large bowl; toss well. Spoon apple mixture into an 8-inch square baking dish or 1 1/2-quart casserole. Sprinkle with crumb mixture. Bake at 375° for 45 minutes or until golden brown. Serve warm.