Flowering Now: Giant Bird of Paradise (Strelitzia nicolai) – June 26, 2014
Giant Bird of Paradise (Strelitzia nicolai)
I almost thought this was a banana tree flowering in my neighborhood on my walk the other day, but a quick Google search showed me that this is a Giant Bird of Paradise (Strelitzia nicolai). The leaves look similar to banana, but the flowers are quite different. The flowers are similar to a Bird of Paradise, a common landscape plant here in Southern California, but the plant and flowers are much larger — really more of tree than a shrub.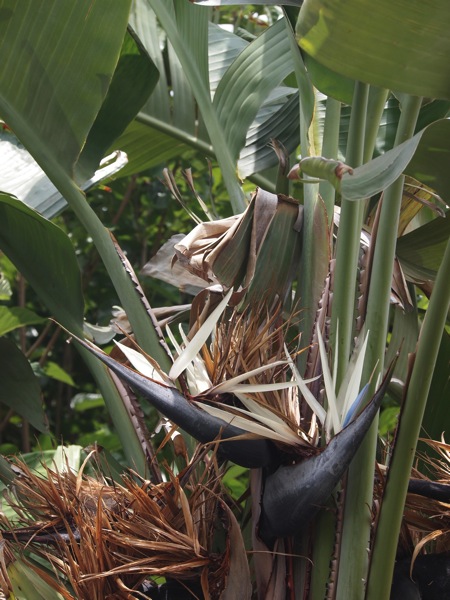 Photo: Douglas E. Welch, A Gardener's Notebook
Giant Bird of Paradise (Strelitzia nicolai)

"Strelitzia nicolai, commonly known as the Giant White Bird of Paradise or Wild Banana are banana-like plants with erect woody stems reaching a height of 6 m (20 ft) and the clumps formed can spread as far as 3.5 m (11 ft).

The 1.8 m (5 ft 11 in) long leaves are grey-green and arranged like a fan at the top of the stems, similar to Ravenala madagascariensis. The inflorescence is composed of a dark blue bract, white sepals and a bluish-purple "tongue". The entire flower can be as much as 18 cm (7.1 in) high by 45 cm (18 in) long and is typically held just above the point where the leaf fan emerges from the stem. Flowers are followed by triangular seed capsules.[2][3]

Strelitzia Nicolai is among the rare plants which have been verified to contain the Bilirubin pigment, which is usually found in animals.[4]  — Wikipedia.org
More information on the Giant Bird of Paradise (Strelitzia nicolai):
* A portion of each sale from Amazon.com directly supports our blogs
** Some of these books, and more, may be available at your local library. Check it out!
Previously in Flowering Now:
Comments are closed.