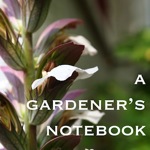 I take out 2 small dead pine trees, finish off the triangular area we turned into a raised bed months ago, plant 2 lavendar cuttings I raised on the potting bench and "hill" the sweet potatoes once again. Whew! Busy day in the garden.
Check out what was happening in the garden a year ago: "Container Vegetable Garden Update 8 – Squirrels a-diggin'" and "In the garden…November 7, 2012"
Check out my collection of gardening essays, "From A Gardener's Notebook" now available as a Kindle eBook. (You don't need a Kindle to read it, though. Read it on your PC, Link: http://j.mp/fagnbook
Watch all past episodes of "In the garden…" in this YouTube Playlist
---
Please Like this video and/or subscribe to my channel on YouTube.
Your likes and subscriptions directly reflect how many other viewers are suggested this video.
"In the garden…" is a series for A Gardener's Notebook highlighting what is happening in my garden, my friend's gardens and California gardens throughout the seasons.