A clip from this longer presentation — New Media Q&A 2015 for UCLA Extension Voiceover Class. Watch the entire presentation here!
Douglas answers questions from students in Janet Wilcox's online Voiceover class at UCLA Extension.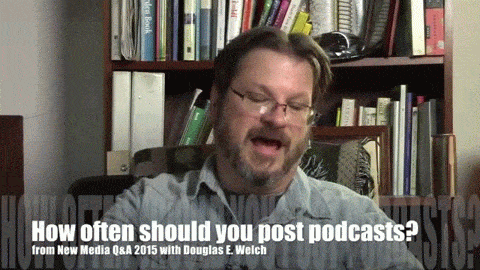 Podcast: Play in new window | Download (Duration: 1:05 — 155.9MB) | Embed

Subscribe: Apple Podcasts | RSS
Transcript:
Next question. How often should you post podcasts? Again, the very frustrating answer I often give… yes! The fact is, podcasting and should be posted as often as you have something interesting to say. That said, typical podcasts fall into a weekly schedule — a 7 day schedule of some part. There are some people out there that do daily podcasts. I will warn you. It is a treadmill to get on a daily podcast. You nede to produce shows well in advance of their release, because life intervenes. You get called away to the doctor or a family problem or a job problem or whatever and all of s sudden you have missed a daily show. If you're going to do that, go into with eyes wide open and realize what you a treadmill that can be and know that you are going to have to be producing shows weeks ahead so that, should you have an issue or you just want to take a vacation, you can pre-produce those you need to release during the time that you're away.
Links mentioned in this video:
Voiceover: Techniques and Tactics for Success by Janet Wilcox
Free Blogging Sites
http://Wordpress.com
http://Blogger.com
Royalty Free Music
Kevin MacLeod – http://incompetech.com
More information on Douglas E. Welch and Careers in New Media: