Supercraft: Easy Projects for Every Weekend by Sophie Pester and Catharina Bruns
Available March 15, 2016 — Pre-order now
** I received a free ebook review copy of this publication from the publisher. All opinions are mine.
You might think in today's online world you wouldn't need books filled with crafting and DIY projects, but Supercraft does prove itself worthy of a purchase and the space it occupies in your (hopefully) craft-filled home.
Supercraft contains 52 DIY projects of all sorts arranged according to the 4 Seasons of Spring, Summer, Winter and Fall. It reaches across the DIY spectrum to include papercraft projects, sewing and knitting projects. projects made with concrete, leather, and more! There are a good breath of project here, crossing all ages and skill levels.
Some of my favorite projects included include Sewn Notebooks where basic notebook covers are punched and then used a counted cross stitch canvas for typographical letters or whatever you might wish. It would very easy to apply any of the cross stitch patterns you might find on the web to this project, too, so you use your own creativity to apply this project in many ways.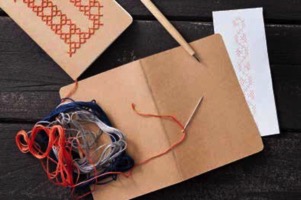 A more ambitious project is a lovely, leather travel wallet that I could see myself carrying every day. The book includes a cutting template for the leather as well as indicates stitching points to join it together. It takes a bit more skill to complete this projects but it would be a rewarding challenge.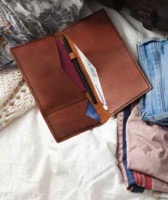 For the more sewing inclined, there is a cute and cuddly Felt Bunny that any child would love (and some adults, too) Again, cutting templates are included and the sewing directions are clear and concise.
Even if you don't decide to make all the projects in Supercraft — or use them exactly as they are presented — I think you will learn new techniques and generate a few new crafting ideas of your own, just by seeing how the authors have put things together.
Pester and Bruns come to crafting through their company, Supercraft, a popular craft box subscription service in Germany. Think of it as a Lootcrate for the crafting set. New projects arrive each month on a subscription basis with lots of crafting ideas and supplies.
"Designer Sophie Pester is the founder of one of the largest craft fairs in Germany. Author and designer Catharina Bruns has written about creative inspiration in the workplace. Together, they founded Supercraft, a popular craft box subscription service in Germany. They are widely known in the craft blogger scene and are often featured in women's and craft magazines."
One idea I plan on trying right away is a hand-stitched book of pockets made from old map or atlas pages. It's meant to work as a travel journal, but I could see using it even here at home to capture the important day-to-day memories of life.
While there may be thousands of crafting ideas on the Internet, there are times when a small, well-curated, tested series of projects could be more useful — and fun. Check out Supercraft and see if it doesn't spark your own creativity.
Recommended