Los Angeles: Check out your energy monitor at the LA Public Library courtesy of the LA DWP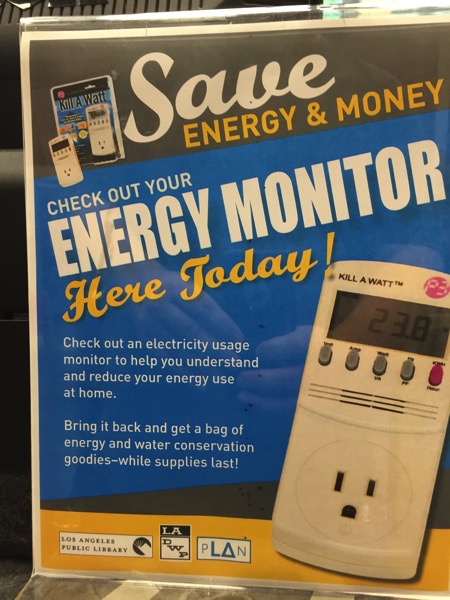 Picking up books at the library today and noticed this new program. You can check out an energy monitor to test your home appliances and also get some energy and water conservation "goodies" when you return it. 
I spotted this at the Van Nuys Branch of the LA Public Library, but I am guessing it is also available at other branches.
From the LA DWP Press Release…
Los Angeles, June 22, 2015—As the summer begins and energy demand peaks, the Los Angeles Department of Water and Power and the Los Angeles Public Library today launched a program that allows city library users to check out an electricity usage monitor to help manage their power consumption and energy costs at home. Approximately 300 electricity use monitors are now available at all 73 Los Angeles Public Library locations. The tool will allow users to plug in appliances and electronic devices and review the usage and cost over time, thereby informing them on how to manage their energy consumption."I'm proud of the Los Angeles Public Library and the Los Angeles Department of Water and Power for launching an innovative program to help Angelenos save money while saving energy," said Mayor Eric Garcetti. "Library patrons can check out an energy monitoring device just like a book, and learn more on how household appliances consume energy, especially during the hot summer months. Residents also become eligible to receive additional free water and energy conservation items when returning the devices."