A clip from this longer presentation — New Media Q&A 2015 for UCLA Extension Voiceover Class. Watch the entire presentation here!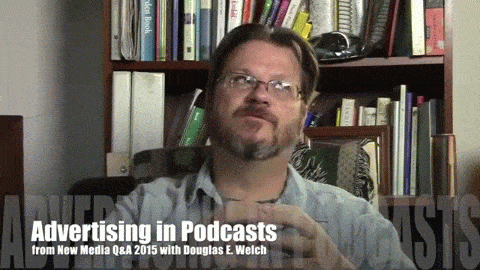 Podcast: Play in new window | Download (Duration: 0:33 — 79.5MB) | Embed

Subscribe: Apple Podcasts | RSS
Transcript:
I tend to prefer that type of arrangement (sponsorship) rather than kind of random advertising because, if you're signed up with a random group of advertisers you never really know what you are going to get in your podcast and I'm always a little worried, as a producer, of getting that one ad that just offends my entire audience and destroys the listenership I have. So, I'm always a little leery of that.  I like to think that advertising is not the best way of supporting a podcast. Unfortunately, no one has really come up with a much better idea.
Links mentioned in this video:
Voiceover: Techniques and Tactics for Success by Janet Wilcox  
Free Blogging Sites
Royalty Free Music
Kevin MacLeod – http://incompetech.com
More information on Douglas E. Welch and Careers in New Media: