Using the Career Compass to Find Your Work and Career with Douglas E. Welch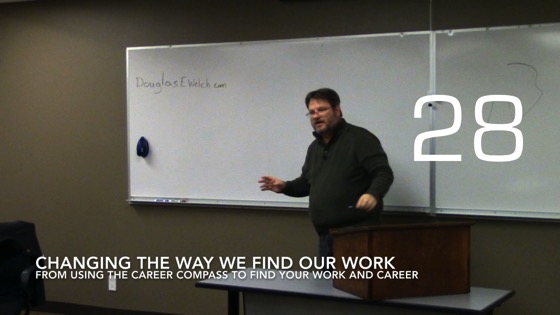 Podcast: Play in new window | Download
Subscribe: Apple Podcasts | RSS
Read the book
Douglas E. Welch (http://douglasewelch.com) presents to the class Career Development – Theories and Techniques at Pepperdine Graduate School of Education & Psychology taught by fellow CareerCamp Co-Chair, Danielle Gruen
The two biggest challenges are deciding what you want to do as a career and then building the career you deserve once you decide.
I discuss the Career Compass method of discovering your career wants, needs and desires and then using various social media tools to show people "What you do and how well you do it"
Transcript:
We're used to — in this day and age — a job environment which I say is ending, not rapidly enough for my liking, but it is ending of where we take our resume. we go "hat in hand" and we beg for a job. That's really — ever since I 've been in the workforce — ever since our parents have been in the workforce that's been the model. You say "Please give me a job!" It's even how you talk about it. When someone says they/ve hired you, they say "Yeah, I gave him a job." Well, I like to think you didn't give them a job. You hired the person who had the skills you need. Just the terminology used, to mean, is backward and off. It will probably never happen in my lifetime, but my goal for the work world — and I hope that some of you will be able to implement this in your own life — is instead of going out "begging' for the next job or the next or this or the other is that you attract opportunity to you.
Links for items mentioned in this talk:
Help Support Career Opportunities!
---
* A portion of each sale from Amazon.com directly supports our blogs 
** Many of these books may be available from your local library. Check it out!