Transition is Where the Magic Happens from Transition as the New Normal 2015 [Audio Clip]
A clip from this longer presentation — Douglas E. Welch presents "Transition as the New Normal" to OPEN (Outstanding Professionals Employment Network) Ventura County in Simi Valley, CA on February 27, 2015.
Also mentioned in this talk is "Career Compass: Finding Your Career North", an Amazon Kindle booklet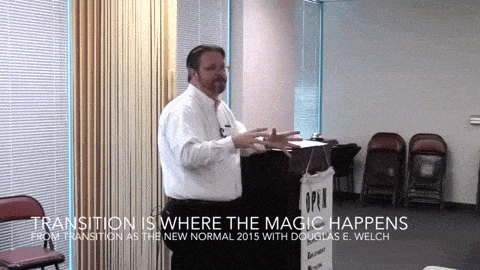 Podcast: Play in new window | Download
Subscribe: Apple Podcasts | RSS
Transcript:
For me, transition is where the magic happens in our lives. No, new amazing, thing happens in our lives without a major transition. Anyone who's had children (Laughs) — My son is now 17 — knows that — Wow! — what a transition point and what a number of transition points within that one transition points — that has spun off — as I've said, I would have neer taken up archery, if it hadn't been for him. I'd have never learned to throw knives and axes, which we also did with the same group. I would have not been able to build a battlebot that he's now able to do. Stuff like this. It's at those fringes and its really where the magic happens. If I can do anything today, I want you to take a new attitude towards transition. A new attitude towards change and a new attitude towards risk. Again, I'm not asking you to jump out of a plane, but to look at it in a different way as not being something that is foisted upon us — even though it might be right now — but something we can engage in ourselves, take the reins of and ride that horse into the future, off into the sunset of the Chatsworth Hills or the Simi Hills and build something better in our lives and our careers. That's all I have today for my prepared remarks. I'm free to answer any questions you might have.
Help Support Career Opportunities!