Looking toward the new year, I am making an effort to be more civic-minded and taking more interest in my city, country, state, and country.
Today aI am highlighting the wealth of data available at data.LACity.org. This is public data collected by all the city's systems and shared online in database format. Today's resource is a database of all 311 calls (and 311 app requests) for 2020 (and the past, should you wish). 
Have you ever wondered if someone had reported that abandoned sofa on the curb yet? How about the graffiti on the corner or the illegal dumping in the empty lot? Now you can get updated status of these reports and add your own if no one has reported it yet.
MyLA311 Service Request Data 2020
You can slice and dice this data however you wish. I am setting up some custom views for monthly reports and reports by Zip Code and Council District, but they haven't been approved for public access yet. (Probably the holiday slowing everything down.) Still, you can add filters to limit the data to just your area of interest.
There is a lot of interesting data here that Neighborhood Councils could make use of and it is fairly easy to use.
You can also map the data in various ways, like this…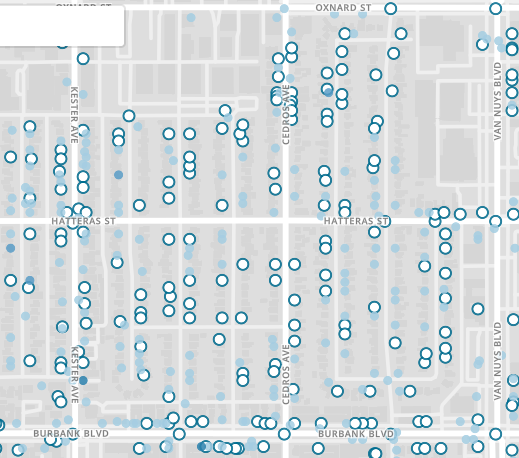 Check it out!
So, just what is "civics" anyway?
Civics is defined as: the study or science of the privileges and obligations of citizens.

Civic education is the study of the theoretical, political and practical aspects of citizenship, as well as its rights and duties. It includes the study of civil law and civil code, and the study of government with attention to the role of citizens―as opposed to external factors―in the operation and oversight of government. — League of Women Voters of Delaware.
In order to have the government we want, we need to both understand and engage in civics activities in our local communities. I am dedicated to doing better in 2021. How about you?