What might you find in these old cookbooks? What special recipes have been handed down to you? Share in the Comments!
Historical Cooking Books – 53 in a series – Good plain cookery (1882) by Mary Hooper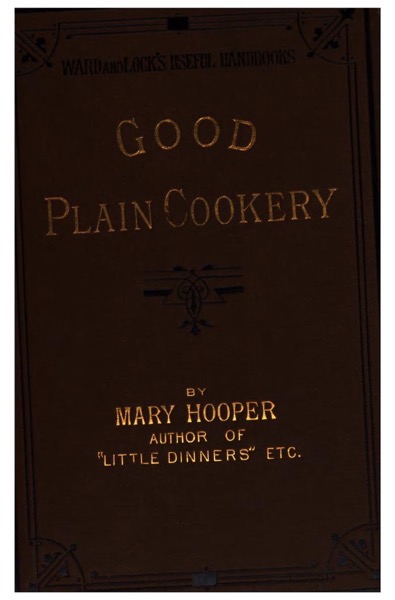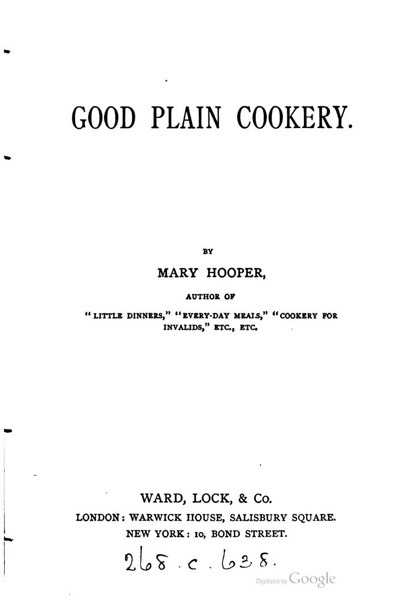 Available in PDF, Text, JPG formats, and more
" Know on thyself thy genius must depend.
All books of cookery, all helps of art.
All critic learning, all commenting notes,
Are vain, if, void of genius, thou wouldst cook ! "

These words of an old writer are as true now as they ever were. "Then," somebody will be sure to say, " it is of no use my trying to be a cook, for I have no genius for it." To quote so great an authority as the late Charles Dickens, " Genius is nothing more nor less than a vast capacity for taking trouble." Anybody, therefore, who has this capacity, and who possesses patience and perseverance, can be a good cook. It is clear that these gifts cannot be attained by the study of cookery books, and it is as useless to expect to prepare food properly without practice, as it is to expect to paint a picture without years of careful study. Cookery may be one of the secondary arts, but an art it is, and demands not only, as we have said, exercise of the high moral gifts of patience and perseverance, but of every faculty of the mind. No stupid person can ever be a good cook. Real proficiency in the art can only be attained by one who possesses powers of observation and comparison. A critical faculty of taste is absolutely necessary for a good cook.
See More:
Topics cbk
Publisher   Ward, Lock, 1882
Collection   europeanlibraries
Digitizing sponsor   Google
Book from the collections of   Oxford University
Language   English
---
* A portion of each sale from Amazon.com directly supports our blogs
** Many of these books may be available from your local library. Check it out!