This is one of our "Recipes in Rotation" that we make about once a month.
This is a great seasoning that I think holds up to nearly any Mexican fast-food out there. We use it for ground turkey, but I have found you can use it with tofu, textured plant-based meat replacements and, combined with 2 cans of black beans and topped with a bit of cheese, a great bean dip, too.
Adjust the amount of red pepper flakes and cayenne to suit your taste, add in real chilis to stoke the fire further. All in all, this very flexible and a great staple item to have on hand so you can whip it up as necessary. It only takes 30 minutes or so and can be combined with any number of foods.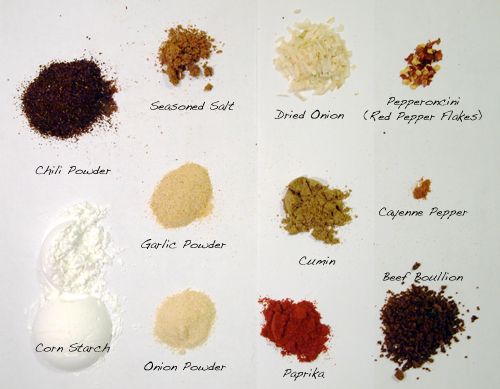 INGREDIENTS YOU'LL NEED
1 1/2 tablespoons corn starch
4 1/2 teaspoons chili powder
1/2 teaspoon onion powder
1/2 teaspoon garlic powder
1/2 teaspoon seasoned salt
1/2 teaspoon paprika
1/2 teaspoon cumin
1 teaspoon dried minced onion
1 teaspoon beef bouillon granules
1/4 teaspoon ground red pepper
pinch cayenne pepper
2 tbls olive oil
1 lb ground turkey
1 cup water
DIRECTION
Heat olive oil in large skillet
Add ground turkey and brown
While turkey is browning, combine all seasoning ingredients in small bowl.
Once turkey is browned, sprinkle seasoning mix over turkey and cook it with the turkey for a minute or so.
Add water and reduce heat to low simmer.
Simmer until meat and sauce is desired consistency. About 10 minutes.